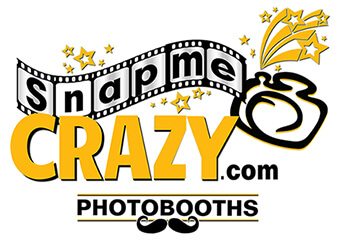 Professional Photo Booths, Amazing Photos, Crazy Props, Social Sharing, Digital Downloads, Unlimited Prints, Friendly Attendants and More!
Oklahoma's Top Photo Booth!
The Snap Me Crazy
Photo Booth Experience!


SNAP ME CRAZY PHOTO BOOTHS
Fun, Creative, Affordable Packages!
Perfect for Birthdays, School, Church Events!
(2 Hrs Only / No Upgrades Available) 
Call Dave at (405) 343-7468

Snap Me Crazy was the easiest people to work with and are excellent in customer service! They really work to make the experience best for whatever your occasion is! We have used them twice for our 7th grade festival, and I do not think this relationship will be ending any time soon!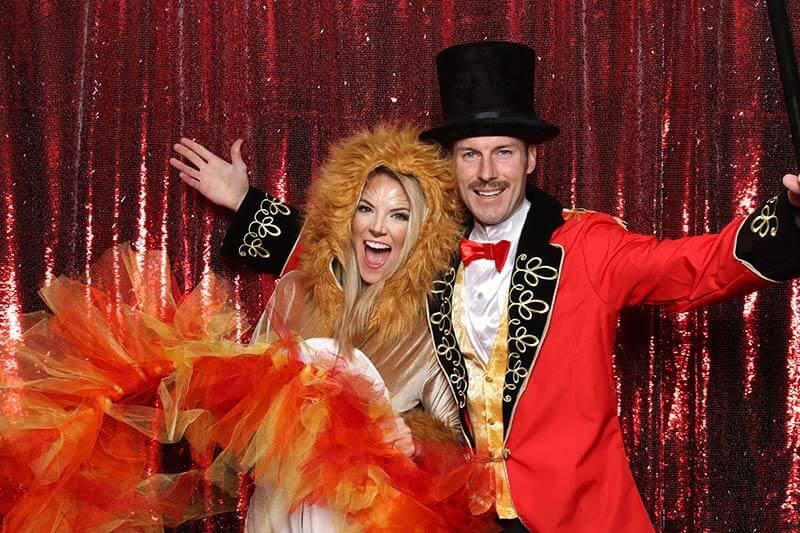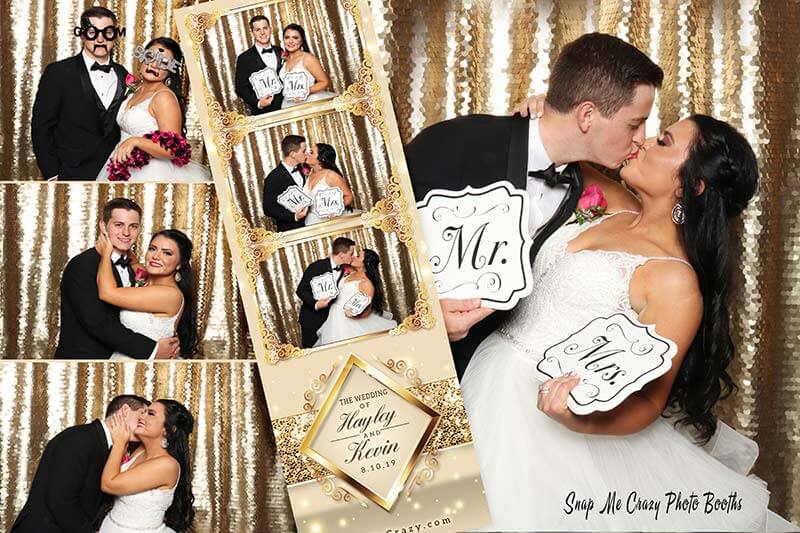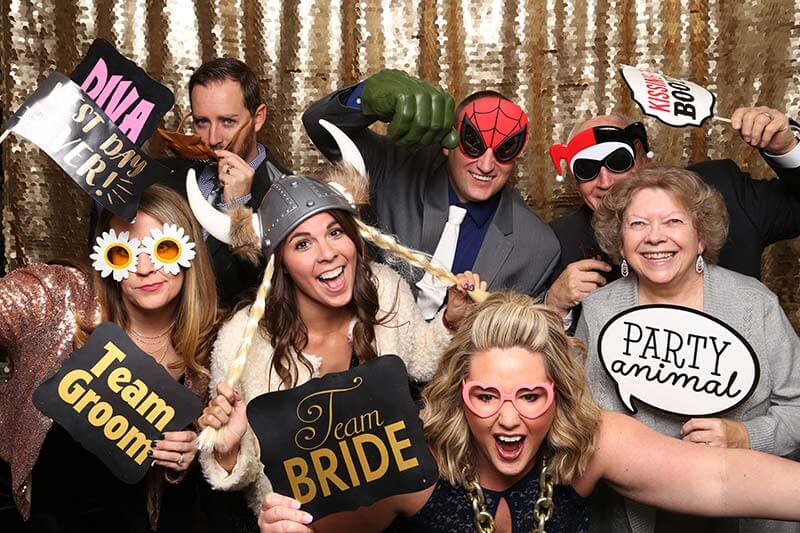 Innovative Photo Booth Features!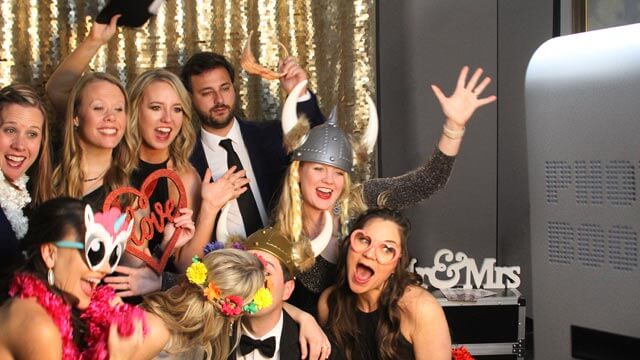 Open Air Style Photo Booth

Our elegant, beautiful Open-Air Booth is a wedding exclusive!. It is equipped with a professional camera, pro-lighting, and a high-quality printer to make you look great!  The open-air concept encourages your guests to get in on the action when seeing others excited about having their pictures taken!  You can fit a lot of people in one shot and the picture quality is amazing!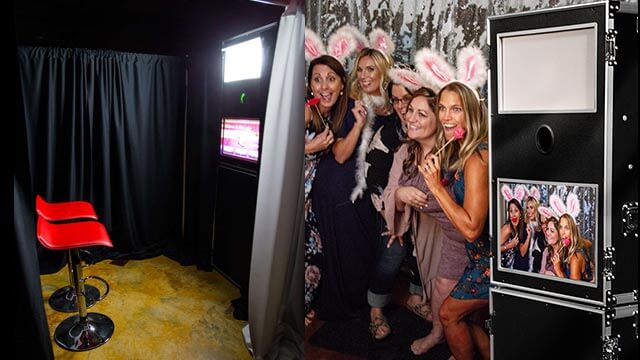 Enclosed Style Photo Booth

Over the years, our enclosed booth has been a party favorite!  It is equipped with a professional camera, pro-lighting, and a hight quality printer. The enclosed curtain style reminiscent of the classic style booth that offered privacy while getting your picture taken in the booth. This booth is a lot of fun and creates a lot of laughter, some kissing but always amazing photo strips!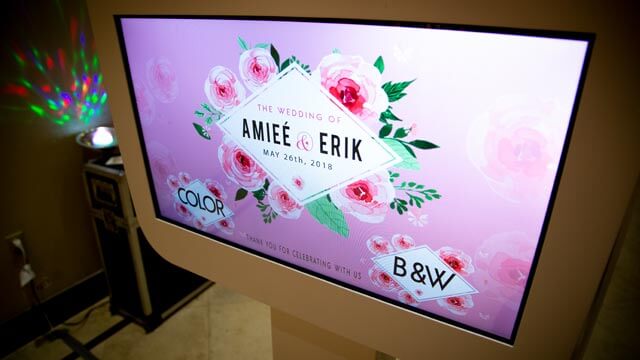 Interactive Touchscreen
Our interactive touch screen monitor prominently displays your logo artwork on a custom welcome screen that matches your theme, colors and feel of your event or wedding!  You and your guest will grab a prop, strike-a-pose, and it's smile time, then watch a countdown and 3-2-1, Snap!  Our software captures the moment!   Just one more cool way we make your event fun and memorable!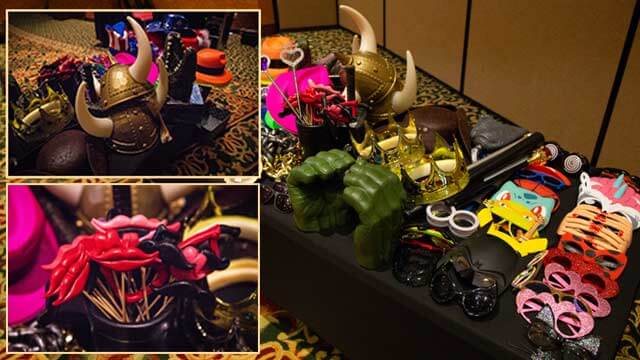 Crazy Party and Wedding Props
We are constantly switching out the props to make your event more memorable!  Over 100+ crazy props and signs for you to take awesome crazy memorable shots!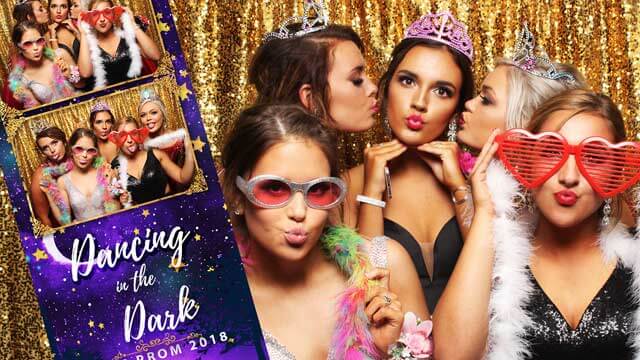 Unlimited Prints
We print your guests two high-quality 2 by 6inch photo strips every photo session. Our "Unlimited Prints" option allows everyone in the photobooth to get a copy of the photo strip!  This cool feature is included in all of our Wedding Packages and can be easily added on during the booking process as an option to our party packages!  We highly recommend adding this cool feature as it does enhance the overall fun!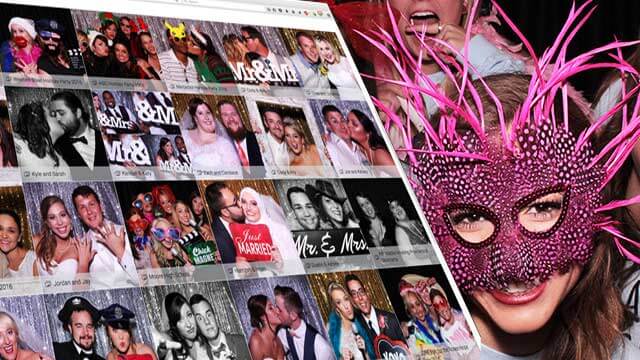 Online Photo Gallery
We want you to enjoy your photos snapped in our booth, so all your photos are uploaded to your own wedding or party online photo gallery following your event!  Just share your personal online photo gallery link with family and friends and they too can view, share, print their own photos for up to one full year!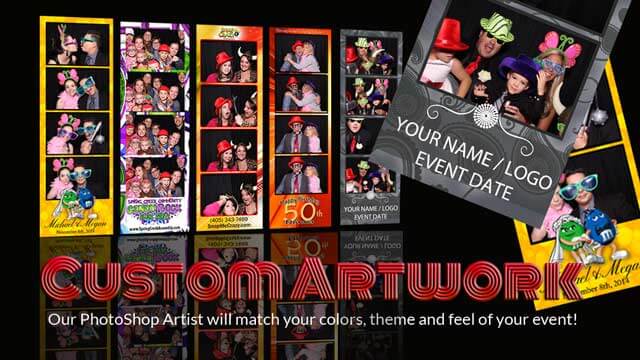 Custom Designed Photo Strips
Our on-staff Photoshop Artist will match the colors, theme, and feel of your wedding that will be printed on every photo strip.  This custom artwork makes your strip unique and a special memorable keepsake for your guests to take home with them.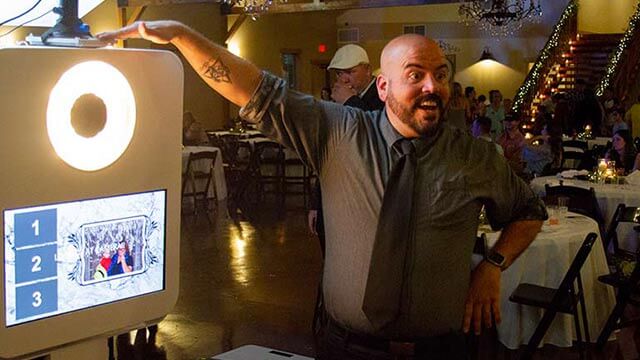 On-Site Professionals

Every rental includes 2 friendly on-site pros at every event. Whether it's getting you "Propped" up or working the scrapbook station or laughing with the guests, our goal is to make sure you have a 5-star unforgettable experience and leave with the best possible picture we can capture!  Our main goal is for you and your guests to have an unforgettable experience!
We show up early at events at no charge to you!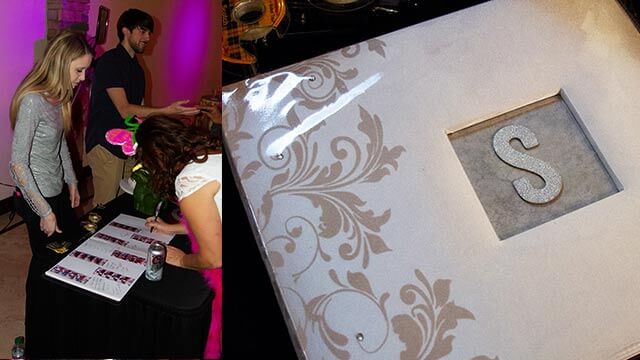 Scrapbook (Wedding Exclusive)

All of our wedding clients get a lovely scrapbook included in their wedding rental packages!  A copy of every booth photo session will be added to your scrapbook as a designated attendant will encourage your guests to sign their name and congratulatory note along side every photo strip..
A wonderful and priceless keepsake of your special day!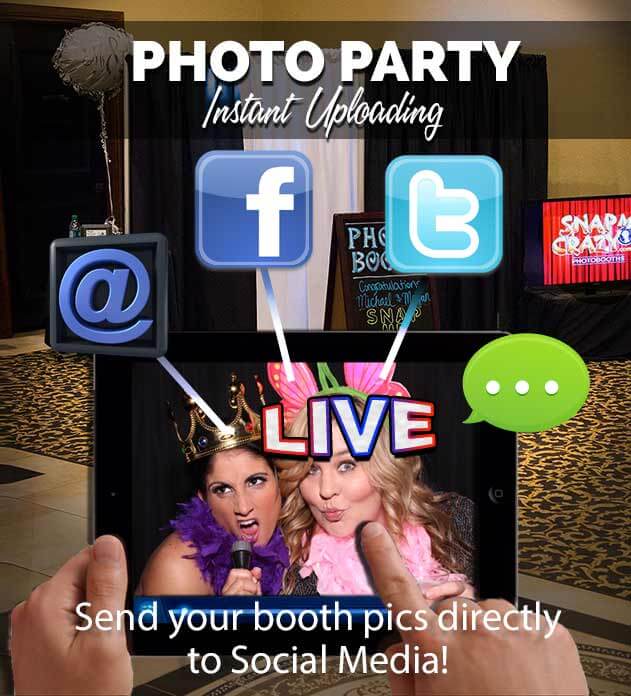 Instant Social Media Sharing
Your guests can upload their booth photos to their phones or email and onto their favorite social media platform, all from our social media kiosk. This is a fun, and great way to broadcast your event or wedding as it is "LIVE" and plaster it all over social media. This option is included in our wedding packages but can be easily added as an option for party packages during the online booking process. This revolutionary feature is great for corporate marketers wanting to get more exposure at an event, trade show, product or business launch.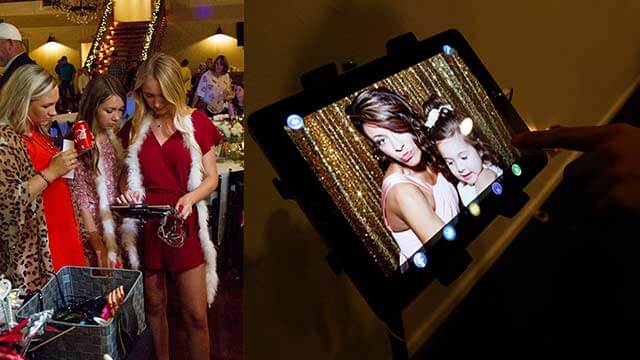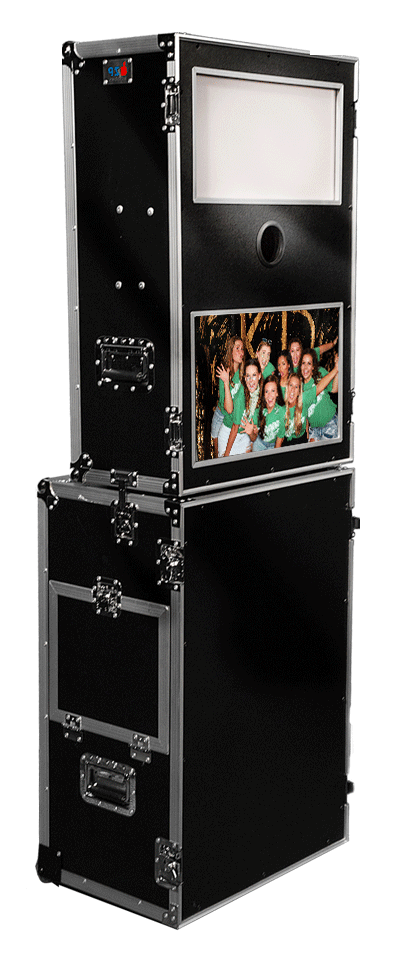 Oklahoma's
Top Rated
Photo Booth
Company!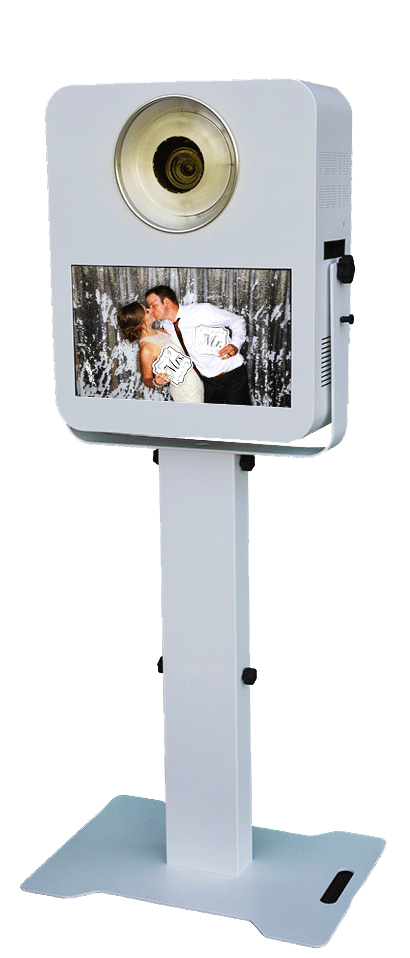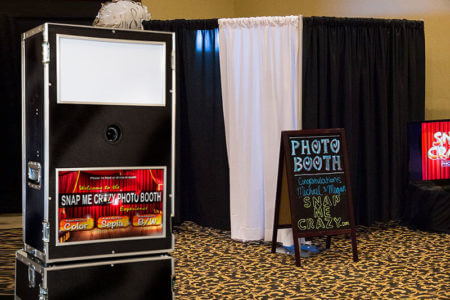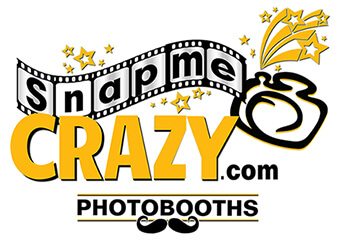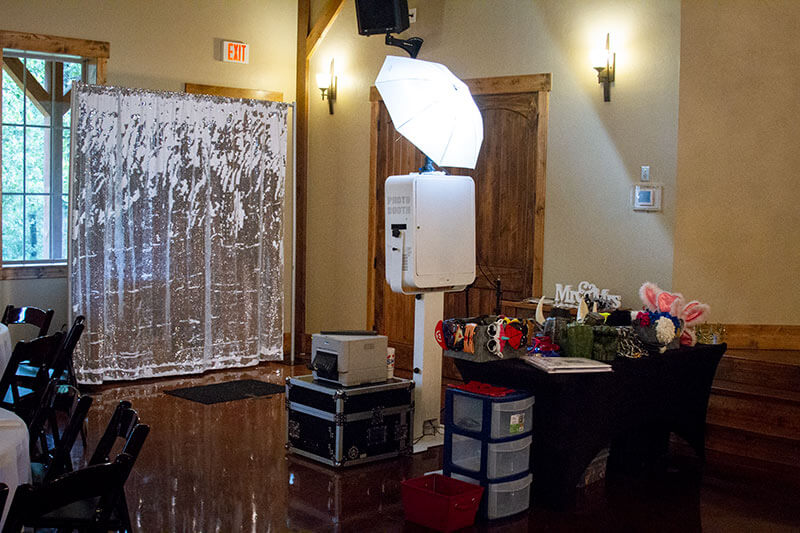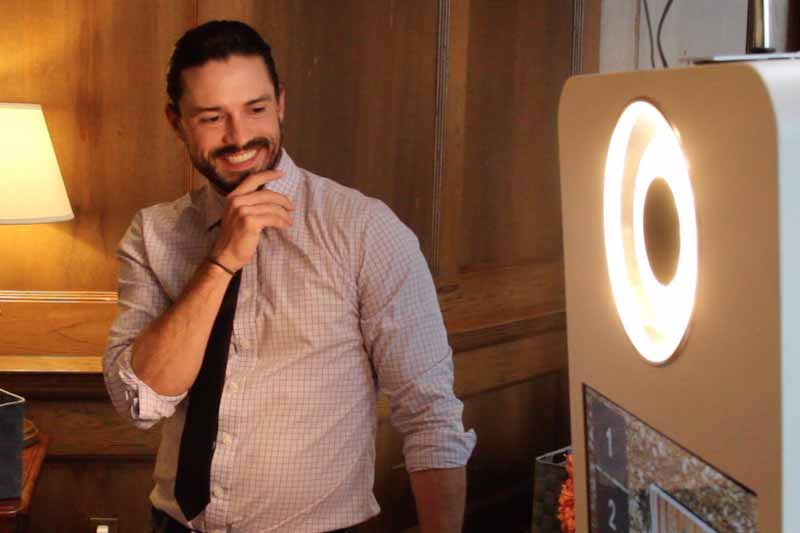 Our Guarantee
Show up Early to your Event
Engage with your Guests
Professional & Friendly Booth Pros
Encourage your Guests to take Pics
Keep the Booth Running Smoothly
Produce the Best Quality Photos and Strips
Create an Unforgettable Experience!

Start your Snap Me Crazy Experience Today!
 Call (or Text) 405-343-7468 to Discuss a  Rental.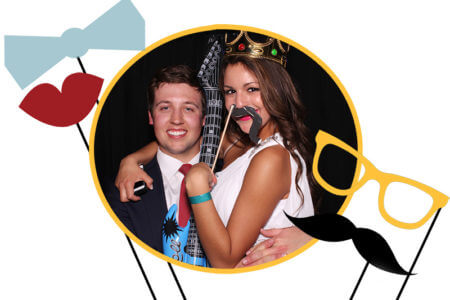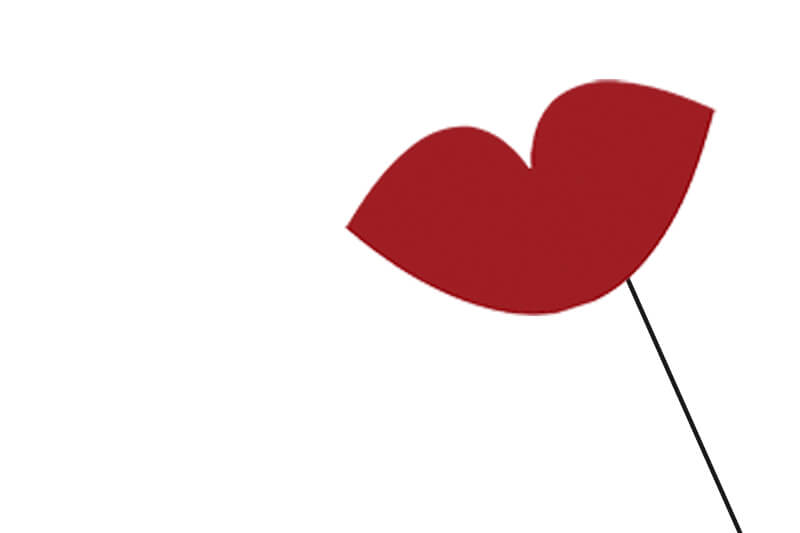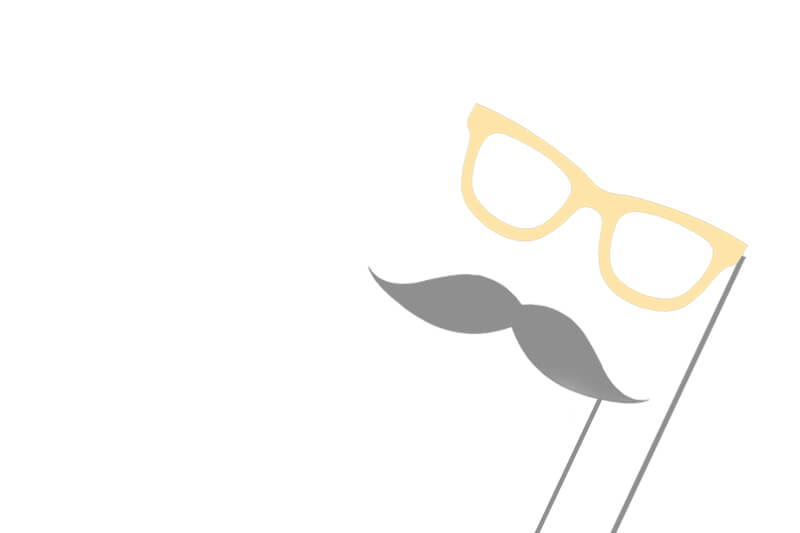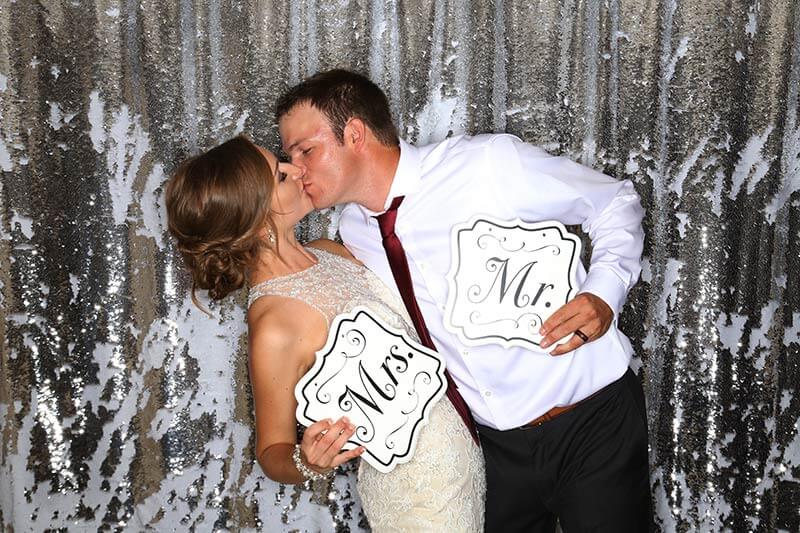 Actual Photos by Snap Me Crazy Photo Booths.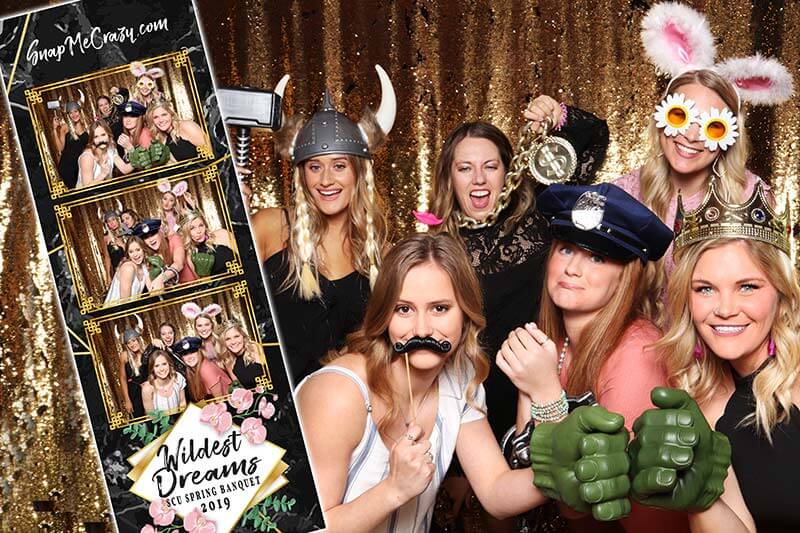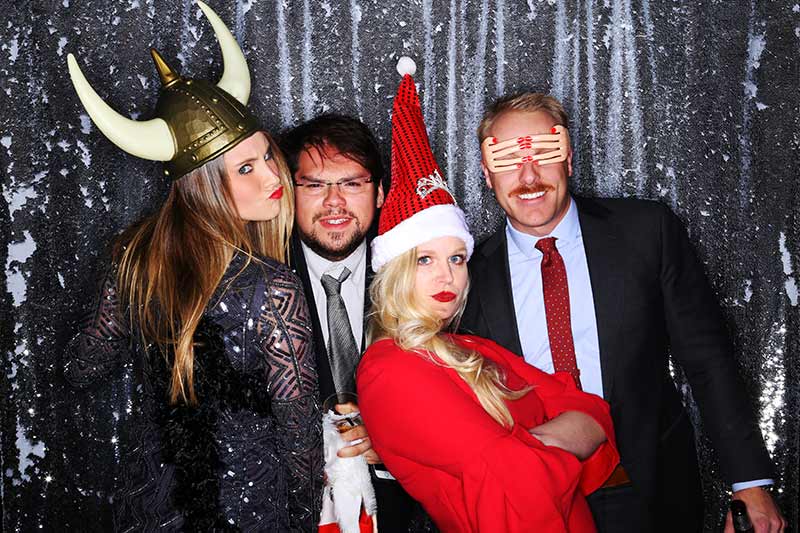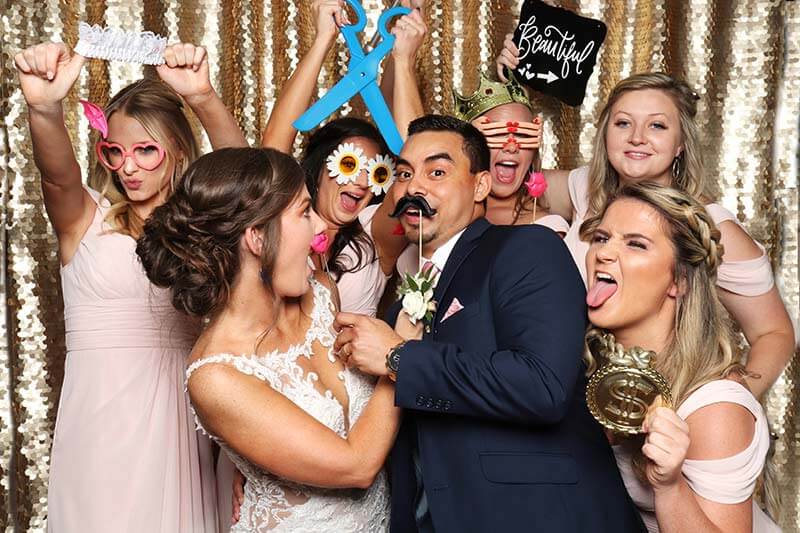 These guys were amazing! People were so nice and they brought the coolest props. Everyone had a blast at our wedding and we had the best time looking through and sharing all the photos afterwards. We highly recommend!! Awesome!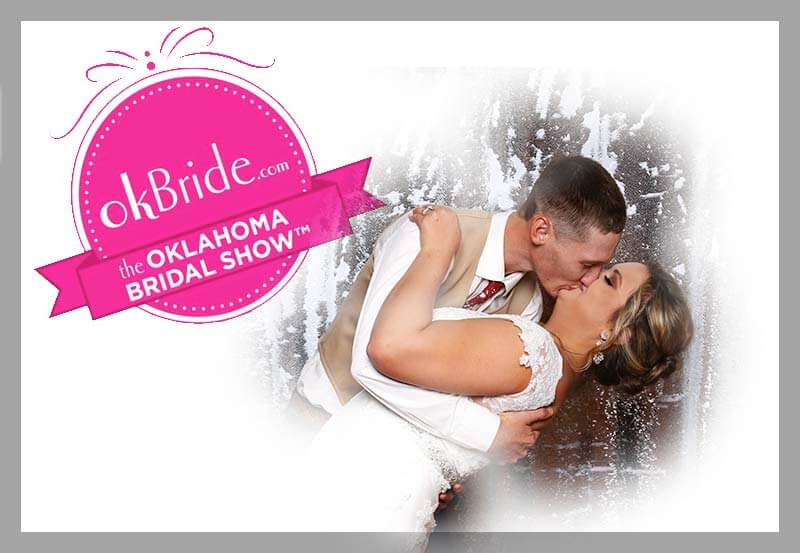 Why You Probably Need a Photo Booth at your Wedding Hint: It's the gift of fun and memories Wedding Reception - 5/11/2018 When the vows have been said and your beloved wedding guests have gone to the reception hall to await your official arrival as...
read more
Call us to discuss a booth rental @ (405) 343-7468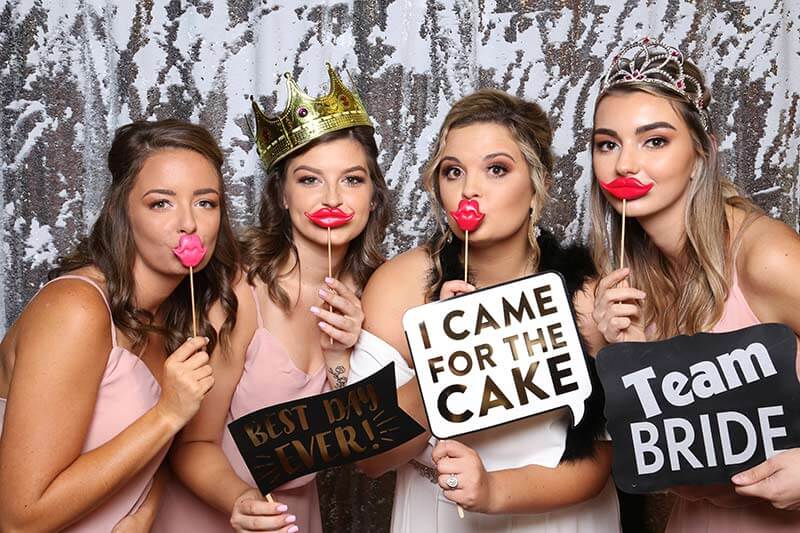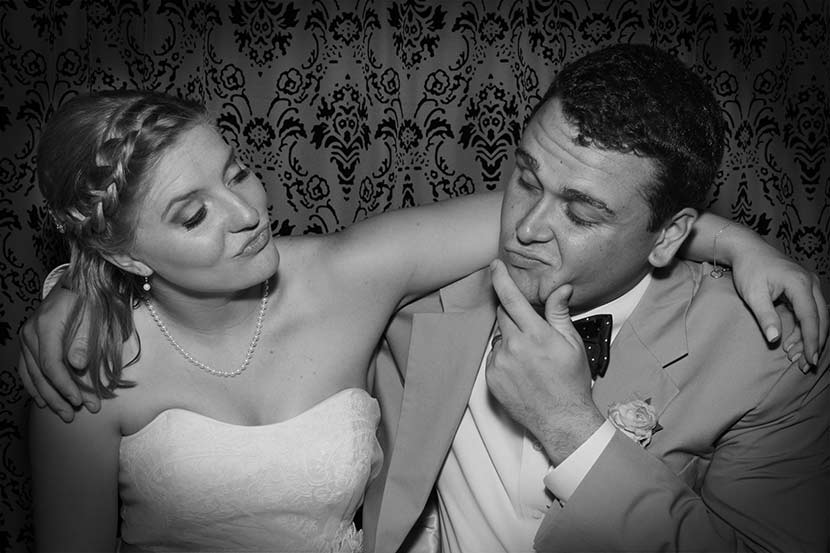 Snap Me Crazy Photo Booths did an amazing job at our wedding! Everyone
love
the photo booth and had a great time! It was definitely the highlight at our reception for four hours. Tons of props and a very helpful and friendly crew worked the booth the entire time! The pictures and photo strips were awesome looked great! The Scrapbook was filled with our guests
photo strips and is something we will treasure the rest of our lives!  Thank you Snap Me Crazy!  I would recommend you guys 10x!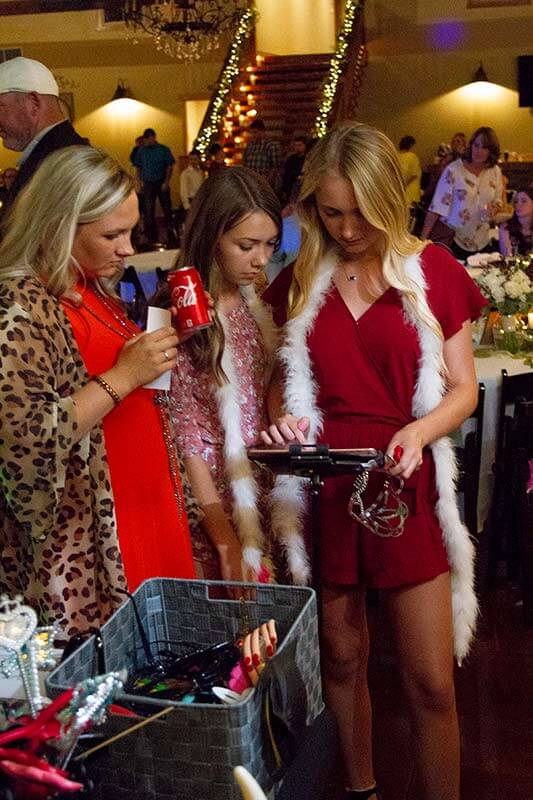 Why rent

Snap Me Crazy

for your next Event?

Our Snap Me Crazy Photo Booth is perfect for all types of events.  We realize the  importance of creating a fun, interactive and memorable experience for you and your guests. That is why we strive to be the best in Oklahoma booth entertainment.  Our technology is state-of-the-art, with fully enclosed or open-air style booth that uses a high-resolution DSLR camera, touch screen monitor, and professional printer producing lab quality 2 by 6-inch and 4 by 6-inch photo strips in just seconds. Our professional attendants are very friendly and helpful. You will have at least one trained photographer at your event to help run the booth operation!  So, if you have been looking around for a photobooth, we think you found the best!  You as the host can be assured your guests will strike-a-pose, smile and have the most awesome experience and go home with top quality photo strips to remember your special occasion.
We would LOVE to provide you a rental for your event in Oklahoma City, Edmond, and the surrounding area. We are confident you will not find any other booth company with all the features we include at our pricing!!
Thank you,
Dave Tamez Photographer / Owner
Snap Me Crazy Photo Booths
Snap Me Crazy Photo Booths 17512 Woodsorrel Rd. Edmond, OK 73012 405.343.7468 info@snapmecrazy.com snapmecrazy.com