By Melissa Erickson
More Content Now
PICTURE PERFECT
In the age of selfies and Instagram, where almost every guest has the ability to take and share digital pictures, photo booths continue to be a popular addition to weddings. "Photo booths are guest entertainment," said photojournalist Dave Tamez, owner of Snap Me Crazy Photo Booths in Edmond, Oklahoma. "Not everyone likes to dance, but when they see a photo booth people of all ages get in line. And usually they don't mind waiting. It breaks the ice and gets people talking and mingling."
The traditional photo booth is still a novelty, Tamez said. "With selfies and Facebook, people just don't print pictures anymore," he said.
A 2-by-6-inch strip or postcardsized photo printout is so old it almost seems like a fresh idea. "People really like to bring them home,put them up on the fridge or on their desk at work. Not only is it fun, it's a great keepsake of the day," Tamez said.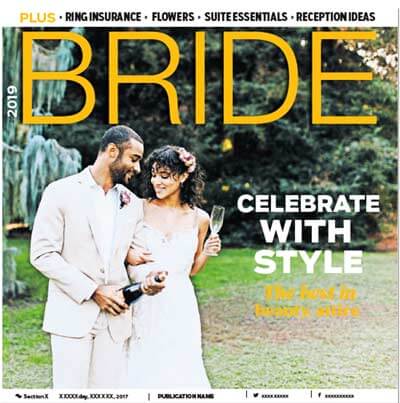 Video Enhancements
Photo booths have become an integral part of weddings, but they're not simply four-walled booths where guests can duck in for a few shots and a keepsake strip of photos to take home. "Besides static photos, GIFs and boomerangs have become very popular.
These videos can be projected onto walls, or shared via social media with the wedding's hashtag," said Brooklyn, New York-based wedding photographer Diana Zapata of Bluespark Photography.
Fun and shareable on social media, animated photo booth creations offer guests something a little different. More of an investment for photo booth operators, these upscale booths have a camera or cameras that take a burst of photos, Tamez said. The images are
mashed together and can be looped forward or backward into a two- or three-second clip that can be shared on social media or by email or text. In the same vein but opposite direction, slow-motion photo booths can dramatically capture signature wedding elements such as a champagne pop or a crowded dance floor.
Props and keepsakes Another alternative to the nostalgic photo booth is one that doubles as a photo op. "For example, we recently worked with two unique photo booths, onea super-cute trailer and the other a vintage Volkswagen bus. This unique twist on the photo booth has definitely helped it stay current and keep guests excited for something a little different," said Stephanie Brown, owner of Off the Beaten Path, a full-service wedding/event planning company with in-house photography services in Napa, California.
The classic photo booth can also serve as a scrapbook station. A double of each photo is printed, then compiled into a keepsake for the bride and groom, Tamez said. An attendant can even ask guests to sign or comment on the pages to make it more personalized, he said.
Photo booths can even serve as the distribution point for a couple's wedding favors. "As guest pick up favors they can stop in at the photo booth and use the favors as props. Unique favors like custom sunglasses can be a unifying factor in your photo booth images to bring out your color scheme or theme," said Rachel Stephens of Totally Promotional, an online retailer and manufacturer
of custom printed promotionalproducts and wedding favors.
More Content Now – Featured Article In BRIDE Magazine
Gatehouse Media