[et_pb_nextend_smart_slider_3 slider="24″ _builder_version="3.19.3″][/et_pb_nextend_smart_slider_3]
Features that make our PHOTO BOOTHS the Best!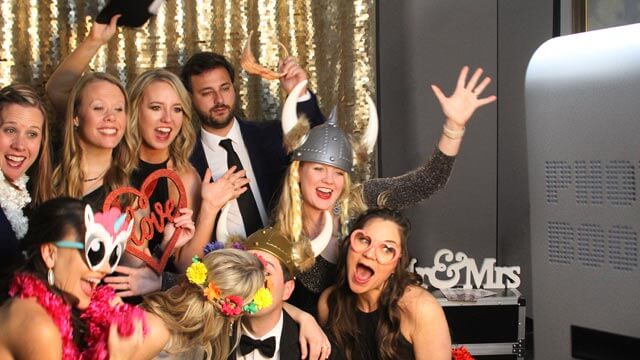 Open Air Photo Booth
Our elegant, beautiful Open-Air Photo Booth is a wedding exclusive!. It is equipped with a professional camera, pro-lighting, and a high-quality printer to make you look great!  The open-air concept encourages your guests to get in on the action when seeing others excited about having their pictures taken!  You can fit a lot of people in one shot and the picture quality is amazing!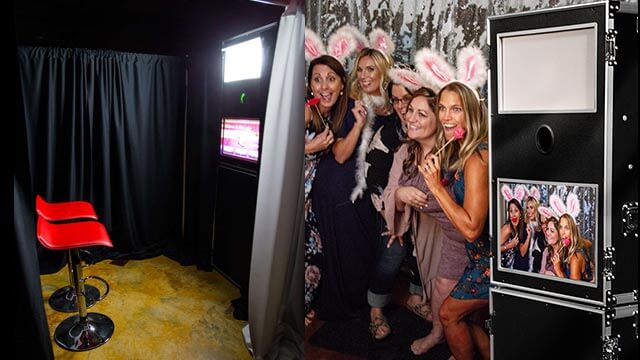 Enclosed Photo Booth
Over the years, our enclosed booth has been a party favorite!  It is equipped with a professional camera, pro-lighting, and a hight quality printer. The enclosed curtain style reminiscent of the classic photo booth that offered privacy while getting your picture taken in the booth. This booth is a lot of fun and creates a lot of laughter, kissing and some amazing photo strips!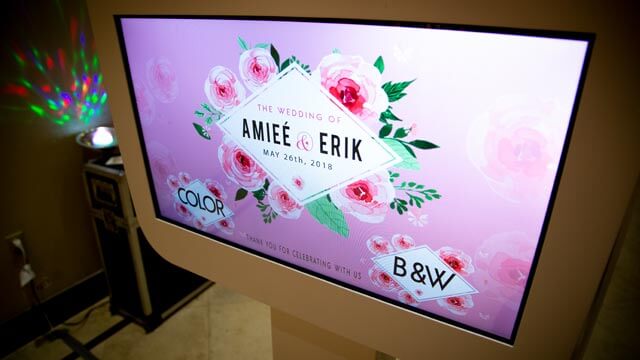 Interactive Touchscreen
Our interactive touch screen monitor prominently displays your logo artwork on a custom welcome screen that matches your theme, colors and feel of your event or wedding!  You and your guest will strike-a-pose, watch a countdown and 3-2-1, Snap!  Our photo booth software captures the moment!   Just one more cool way we make your event fun and memorable!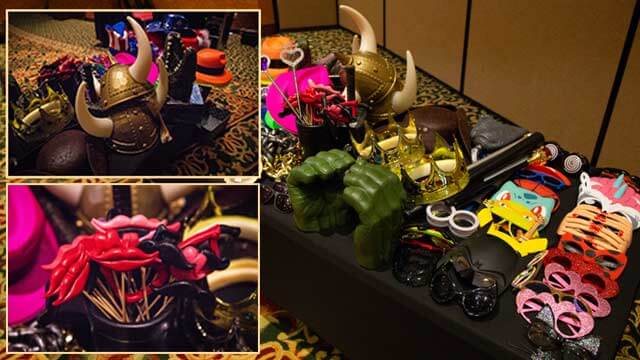 Crazy Party and Wedding Props
We are constantly switching out the props to make your event more memorable!  Over 100+ crazy props and signs for you to take awesome crazy shots in our photo booth!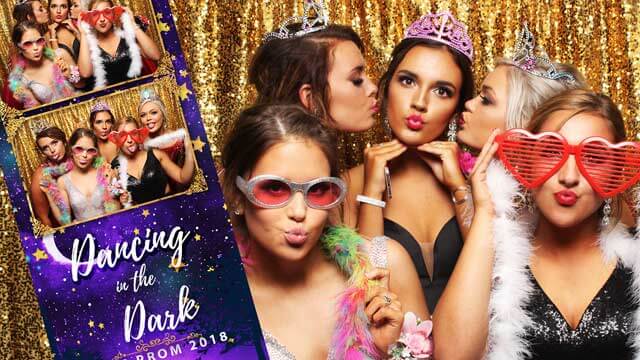 Unlimited Prints
We print your guests two high-quality 2 by 6inch photo strips every photo session. Our "Unlimited Prints" option allows everyone in the photo booth to get a copy of the photo strip!  This cool feature is included in all of our Wedding Packages and can be easily added on during the booking process as an option to our party packages!  We highly recommend adding this cool feature as it does enhance the overall photo booth fun!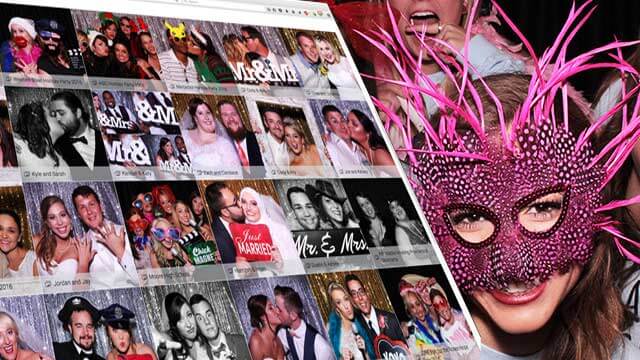 Online Photo Gallery
We want you to enjoy your photos snapped in our photo booth, so all your booth photos are uploaded to your own wedding or party online photo gallery following your event!  Just share your personal online photo gallery link with family and friends and they too can view, share, print their own photos for up to one full year!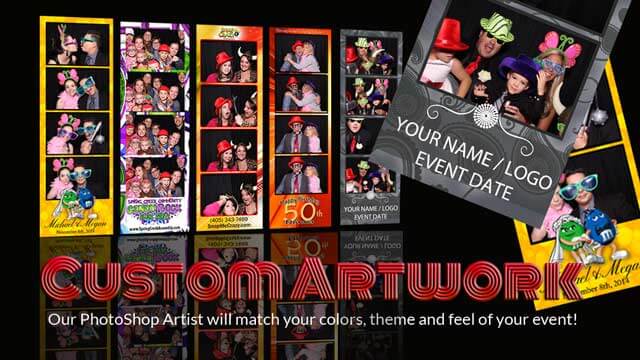 Custom Artwork on Photo Strip
Our on-staff Photoshop Artist will match the colors, theme, and feel of your wedding that will be printed on every photo strip.  This custom artwork makes your strip unique and a special memorable keepsake for your guests to take home with them.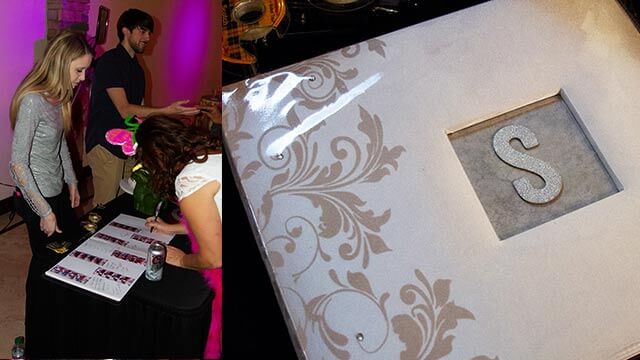 Wedding Scrapbook
All of our wedding clients get a lovely scrapbook included in their wedding rental packages!  A copy of every photo strip taken in the photo booth will be added to your scrapbook as a designated attendant will encourage your guests to sign their name and congratulatory note along side every photo strip.  This option is available as an add-on option with all of our party photo booth packages. 
A wonderful and priceless keepsake of your special day!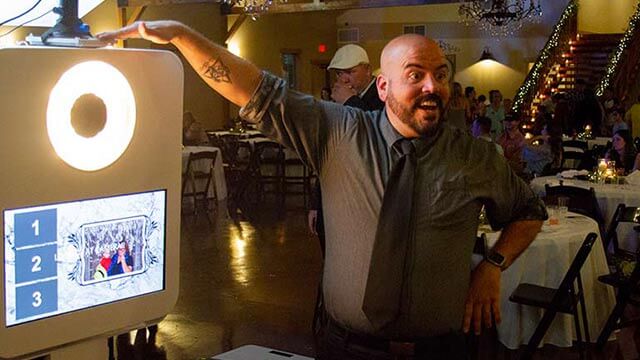 On-Site Photo Booth Pros

Our Photo Booth rentals include 2 friendly on-site photo booth pros at every event. Whether it's getting you "Propped" up or working the scrapbook station or laughing with the guests, our goal is to make sure you have a 5-star unforgettable experience and leave with the best possible picture we can capture!  Our main goal is for you and your guests to have an unforgettable experience!
We show up early at events at no charge to you!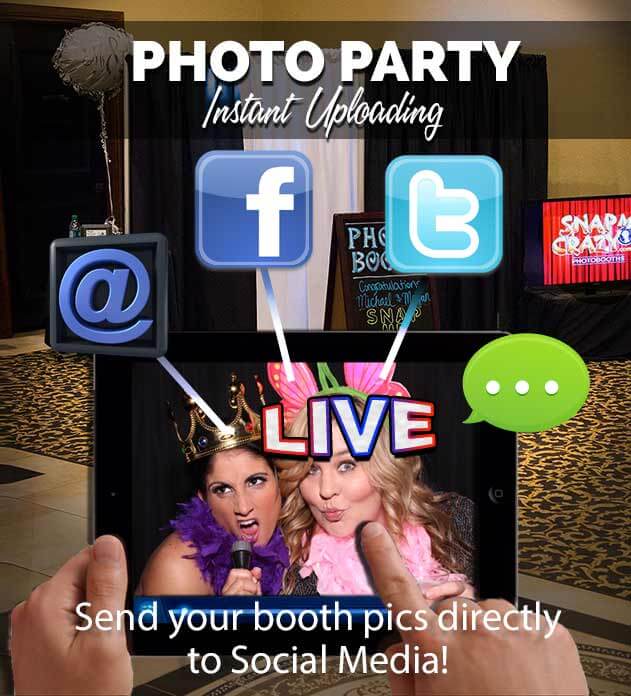 Photo Party Instant Social Media Sharing
Your guests can upload their booth photos to their phones or email and onto their favorite social media platform, all from our social media kiosk. This is a fun, and great way to broadcast your event or wedding as it is "LIVE" and plaster it all over social media. This option is inlcuded in our wedding packages but can be easily added as an option for party packages during the online booking process. This revolutionary feature is great for corporate marketers wanting to get more exposure at an event, tradeshow, product or business launch or conference.