Watch Out For "Cheap" Photo Booths
Let's start right off the top with this subject and get it out of the way!  Photo booth rentals, like anything else, come with a cost.  It's important to know that all photo booths are NOT equal in quality, package offerings, customer service, and experience.
Often, you will find that photo booths that are on the cheaper side are usually newer companies, or use cheaper equipment such as low-quality cameras, tablets, or small booths. These companies will often come with one photo booth attendant or none!
Here are some things that make a photo booth GREAT:
DSLR Cameras
You are paying for memories when you purchase a photo booth.  Keep this in mind.  A sharp, clean image is something that you can put in an album, on a desk, or hang up in your home.  Many newer companies are straying away from this and opting for tablets to take pictures.  Although some tables have good cameras, it will still be far more choppy than a professional grade camera.
Number of Props
It's in your best interest to find a company that offers props.  Taking pictures without them doesn't create the same experience period. You could buy your own, but why spend your money on something you will use once! Always remember to ask your photo booth company if they have props!
How Many Attendants
Check with the photo booth on the number of attendants that they will bring to the event.  If it's less than two, you're probably going to have a lame experience.  As it's been discussed in other articles, a minimum of two attendants takes the stress off of you, and let's the professionals take care of the crowd, props, photo strips, and technical aspects.
The day of your Wedding

Often times when scheduling a booth, the photo booth company will request a "Start Time" and "End Time".  DON'T put the ceremony start time as the photo booth start time! Put down the time the photo booth will actually be taking pictures and engaging with your guests. We explain how to do this a little further down in this article.
Furthermore, always confirm with the photo booth what time they will arrive to setup, and see if they are going to charge you for setting up the photo booth early. Most photo booth companies will allow you an hour of free set up time before they open for business. However, some booth companies will charge you for having to set up early, if your wedding and reception occurs in the same venue. They call the hours waiting before the photo booth is in operation is as "idle hours" and can run your rental cost upwards of $100 dollars an hour.
But many photo booth companies prefer and will set up hours prior to your wedding at no charge to you. They do so not to be disruptive to your wedding in anyway. Plus, it's also beneficial for the photo booth company to arrive early, set up and make sure every thing is in proper working condition.
With that in mind, it's important to plan out the time carefully.  If they do charge for early set up (idle hours) it may even be in your best interest to pay for an extra hour or so to make sure that the photo booth technicians and attendants can properly get everything set up without interfering with your wedding ceremony or reception.
Here's a good photo booth (4-hour) rental example:
Wedding Ceremony and Reception Hours: 5pm – 10pm
Ceremony start time: 5:00 PM
Reception start time: 6:00 PM
Photo booth start time: 6:00 PM – 10PM
Your photo booth should arrive around 1:30 pm to 3:30 pm and have your photo booth up and running well before the ceremony. So, that's why it's good to ask your photo booth company about any extra charges for idle hours. Most will happy to oblige because they know the importance of the day.

Allocate Time To Use The Booth
You wouldn't believe how many brides and grooms spend money on a photo booth, and then forget to use it!  As a photo booth company, we make it a point to get the bride and groom in for shots at least once, but not everyone will go out of their way to do that!
Just like you plan everything else.  Make sure you use the photo booth!  It will be a memory that you can look back on! Please have hour wedding coordinator schedule the photo booth into your wedding reception plans and allow 5 to 10 minutes for them to capture some memorable moments and photo strips for your scrapbook!
Don't skimp on the rental hours
The wedding day will be one of the biggest days of your life, and a photo booth will likely be one of the cheaper vendors that you will be using (photographers, wedding cakes, flowers, wedding planners,etc).
Why Add An Extra Hour?
Most photo booth rental companies will charge roughly $100 for an additional hour, and that hour usually makes a huge difference! If we use the example above and choose to get a 3 hour rental that starts 1 hour before the start time, it would be the difference of guests getting 2 hours vs 3 hours to use the booth! An hour can get plenty of guests in and out, and also gives the bride and groom plenty of time to join in on the fun!
I Don't Want Guests Using The Booth Before The Ceremony
You can specify exactly when you want the booth opened and closed by talking to the on-site photo booth attendant.  Often, the booth will also be closed during the ceremony and the first dances, you just need to remember to make the request!We all know that wedding day can be a time of great joy, immense stress, and plenty of tears of joy! With that being said, let's explore some fantastic photo booth wedding tips! A photo can cultivate memories for decades.  Being able to look back at the start of a life journey is a major reason that everyone should consider getting a photo booth.  A wedding photographer is great, but those candid moments with friends and family are irreplaceable!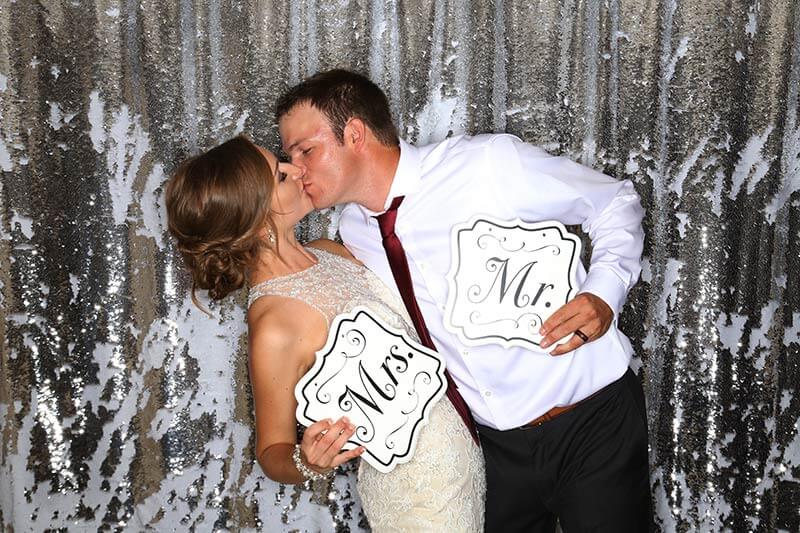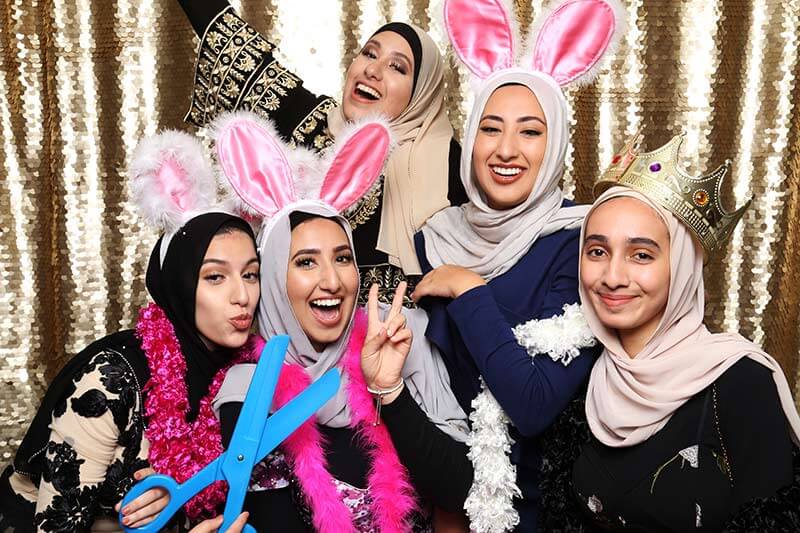 Get Physical Photo Strip Copies
Verify that the photo booth company will actually be printing out photo strips at the event!  Even if you are getting a digital copy (covered below), you wouldn't believe how big of a difference this will make.
Guests LOVE to have these photo strips in hand.  It strikes up laughter, smiles, and lots of conversation.
One of the LARGEST benefits though, is that you will have photos to stick in your scrapbook (covered below) that you will have forever!
Get Digital Copies
Always make it a point to check with your photo booth company that they offer some form of digital copies of the pictures you take.
Digital copies are often offered in these forms, with the most common at the top
Flash Drive
Online Gallery
Social Media (i.e. Facebook)
Text
Email
CD/DVD
Although you do get a physical copy of the photo strips, it's good to have a back up plan!
Other related questions that should taken into consideration:
Will I receive the individual pictures or the photo strip?
How long will my photos be available (if shared online)?
Will I be able to access the online gallery for free? (if using an online gallery)
Will my online gallery be private? (if using an online gallery)
Will I be able to share the pictures while at the event? (if using social media)
Will the pictures I receive have a watermark?
Am I receiving the full high quality photo or photo strip?
Add The Scrapbook (or Memory Book)
A scrapbook (or memory book) is an empty scrapbook that the vendor will bring with them.  Guests will be guided to write an encouraging note to the couple, and their most recent photo strip will be placed next to the note.  This allows guests to take photos that reflect their personality and also leave their words of wisdom!  This can be a fun and exciting thing, and is a step above the traditional "guest book" at a wedding.
Scrapbooks are usually major hits at any wedding, and your guests will love them, but you will love the memories even more!
If you are going to add any extras to a package, this is the Add-On to include!
Ask About Unlimited Prints
What are unlimited prints?
Unlimited prints is an option that allows guests to receive multiple (unlimited) copies of the photo strip for each session.
A photo booth session starts when you enter a photo booth, and ends when you leave the photo booth.
So if you took 4 pictures with 5 friends, you will be able to print out 5 copies for that session.
Most photo booth vendors will only print out 1 or 2 copies of each photo strip per session
Can't I just go into the booth multiple times?
Well, technically you can. The issue is that most photo booth events form lines, and it may take a while to get pictures for all of your friends, and you're probably missing out on the reception!
Request Wedding Props
Great photo booth companies will have a wide variety of props at their disposal, and most should have some type of wedding related props.
Here's a short list of wedding props that are popular:
Bride/Groom sign
Just Married sign
Bridesmaid/Groomsman sign
I love you sign
King and Queen crowns
Heart shaped item for both to hold
Should I bring my own props?
YES. Make a note to check with your photo booth company before bringing anything, but most are 100% onboard with this!
This goes without saying, but please do not bring anything that is inappropriate.
The best props YOU should bring to a wedding are:
Items related to Inside jokes
Items related to fun or romantic memories
Custom signs
Social Media Sharing and Animated Gifs

The photo booth is changing everyday!  Now iPad and Mirror booths have become very popular. So has instant social media sharing and animated gifs. When a picture is taken inside a photo booth, the photos or series of photos are sent to an iPad for social sharing.  The pictures can also be made into an animated gif which can also be texted to one's phone and favorite social media site.  Mirror booths offer animations which the party-goers can interact with during their photo session.
Conclusion
The wedding photo booth has become a staple vendor to add to every wedding! It brings fun, excitement, and lots of laughter for you and your guests.
A few takeaways:
Make sure you don't schedule the photo booth to start during the ceremony. It's your day!
Don't be afraid to add an extra hour.  There's no need to rush the guests to get in and out!
Confirm that your photo booth is bringing some type of digital copy, and ask the right questions to make sure you know what you're getting.
ALWAYS add the scrapbook.  The memories are priceless, and it blows away the "guest book".
Unlimited prints are a great option to keep the line moving and get pictures for all of your friends, every time.
Make sure the photo booth brings wedding props, or even bring your own!